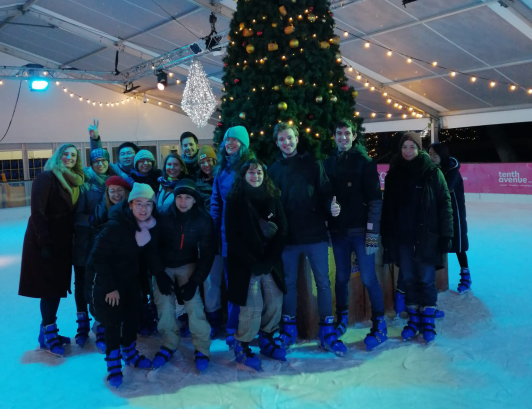 On December 12 & 13, 2002, AMGC members metin Oostende, at the Thermae Palace Hotel for the annual team building activities.
Presentations were given and discussions occured under the leadership of Prof. Steven Goderis:         
- Writing your first article by Flore Van Maldeghem; 
- Research project writing by Lisa Krämer Ruggiu, Pim Kaskes and Jake Griffith;
- Using PURE and Racsweb by Philippe Claeys;
- How to fit in a Belgian research group by Wang Jianpeng,
followed by discussions, and a card personality game. In the evening the AMGC team visited the Oostende Christmas market, and the most intrepids ventured on the ice skating ring (see photo). The first day culminated in a great Oostende dinner (Shrimp croquettes, Soles with fries, & Dame Blanche). On the second day, a presentation on "On mental health and work environment" was given by the VUB health and well being team.  In the afternoon a long beach walk was organized, lucky for us it was cold but sunny.
This short stay at the coast was highly beneficial for everyone and made it possible for all AMGC team members to interact in a different environment than the VUB, and learn to know each other better.