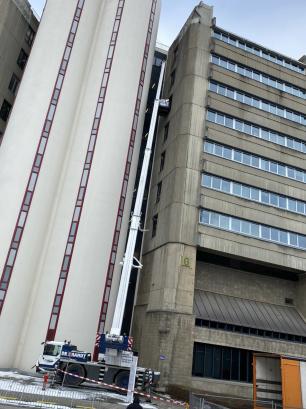 Check out our two flying Mass Spectrometers entering the VUB building F through the window on the 8th floor. 
Two new instruments are being installed at the VUB this month. A multi-collector inductively coupled plasma mass spectrometer purchased in the framework on Professor Christophe Snoeck ERC starting grant Lumiere and a high resolution inductively coupled plasma mass spectrometer, which will be the battle horse of research Professor Steven Goderis. This was a perillious adventure, but all went very well and the instruments are now waiting for the engineers of Nu-Instrument to be allowed to enter Belgium and install them.
These instruments will be used to trace migration of ancient populations, to analyses (micro)meteorites and impact craters, and to reconstruct paleoclimates and understand ancient global environmental changes, as well as for plenty of other great research ideas. 
More news to come.