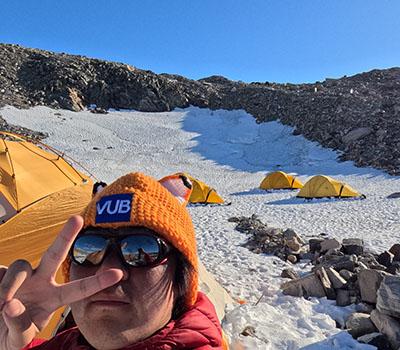 Great start for our 2022-2023 meteorite search in East Antarctica, using the Belgian station Princess Elisabeth as logistic base.
AMGC'er Ryoga Maeda already reports the finding of several meteorites within the searched moraines deposits. On top of Ryoga, this year expedition is composed of Dr. Vinciane Debaille (ULB), Prof. Maria Schoenbaechler (ETH-Zurich), Dr. Maria Valdes (Chicago Field Museum). Great team, best of luck to all four of them.
Since 2009, meteorite search expeditions have been carried out mostly in the Blue Ice Fields surroung the Belgian base. This year, the search also includes moraines deposits, which are accumulation of loose debris of various origins deposited by the movement of glaciers (photos below, left top & bottom; bottom righ). Clearly as seen in the photos below (center top & bottom) moraines fields also contain interesting meteorite samples, with nice fusion crust. The dry and cold Antarctic climate is ideal for the preservation of these extra-terrestrial samples. Every new meteorite found brings new information on the formation and evolution of the early Solar System and the formation of planets.