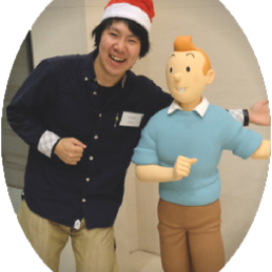 Dr. Ryoga Maeda
PhD March 2023, now research scientist at JAMSTEC in Yokohama
Biography
Dr Ryoga Maeda is now a research scientist at JAMSTEC in Yokohama. JAMSTEC is the Japanese Agency for Marine-Earth Science and Technology. 
---
Ryoga defended his PhD in March 2023, title: Chemical and isotopic characterization of Antarctica meteorites: The chemical and isotopic effects of thermal processing and terrestrial weathering on the (re)distribution of trace elements in chondrites. 
---
PROJECT TITLE:
Chemical and isotopic characterization of Antarctic meteorites
RESEARCH SUMMARY:
My PhD project encompasses a detailed chemical and isotopic characterization of various well-preserved Antarctic meteorites, collected in the blue ice fields surrounding the Belgian Princess Elisabeth station. In this project, we aim to apply in a systematic manner the Lu-Hf and Sm-Nd isotope systems to various meteorite classes (e.g., both common chondrites and rare achondrites, incl. martian meteorites), and investigate the distribution of trace elements in those samples. For the purpose, both of bulk analysis and in-situ measurement have been used and those data will be combined to better understand. Once the trace element distribution is better understood, its effect on radiogenic age determinations will be evaluated (e.g., 147Sm-143Nd, 176Lu-176Hf). This will lead to increased insights into the recorded formation ages of specific meteorite types and their potential resetting.
FIELD SITES:
Plenty of meteorites have been collected from Antarctica, but meteorites have been also collected from hot deserts and even from our living places. In addition, Samples collected through sample return missions such as Apollo and Hayabusa are used for our study.
KEYWORDS:
Q-ICP-MS, ICP-AES/OES, LA-ICP-MS, HR-ICP-MS, MC-ICP-MS, TIMS, EPMA, FE-SEM/EDS, micro-XRF, etc.
SUPERVISORS: